PATIENTS & STAFF
Patients
FOCUS ON CARE AND REHABILITATION
Circadian lighting for care and rehabilitation in hospitals is essential in creating a healthy and comfortable environment for patients and contributing to their healing process. Lighting that follows the natural rhythm of the day naturally adapts to the body's internal biological clock and has a significant impact on patients' well-being, sleep quality, and overall health.
One of the primary reasons for the importance of circadian lighting in a hospital is its ability to regulate patients' circadian rhythm. The circadian rhythm is an internal biological process that controls our sleep-wake cycle, hormone production, body temperature, and other important physiological functions. When patients are exposed to light that follows the natural rhythm of the day, it helps synchronize their biological clock and maintain a healthy rhythm.
In a hospital where patients often spend long periods indoors with limited access to natural light, circadian lighting can be crucial in maintaining a stable circadian rhythm. By offering light with different color temperatures and intensities throughout the day, one can mimic the natural shifts of the sun and help patients stay awake and alert during the day while promoting relaxation and sleep in the evening.
A stable circadian rhythm is not only important for maintaining a good sleep-wake cycle, but it can also have a positive impact on patients' mood and overall well-being. Natural light that follows the rhythm of the day is known to affect the production of neurotransmitters and hormones such as serotonin and melatonin, which play a role in our emotional state and sleep regulation. By creating an environment with proper circadian lighting, one can contribute to improving patients' mental and emotional well-being during their stay in the hospital.
Furthermore, circadian lighting can be particularly beneficial for patients undergoing rehabilitation. In order to optimize the rehabilitation process, it is important for patients to be awake and active during the daytime while being able to rest at night. By adjusting the lighting conditions in the rehabilitation areas, patients can be stimulated to be more active and engaged throughout the day, while also ensuring they have a calm and comfortable environment to rest and sleep in at night.
Additionally, circadian lighting can contribute to creating a more natural and pleasant atmosphere in hospitals, which can have a soothing effect on both patients and staff. By simulating the natural shifts in daylight, a more vibrant and energizing atmosphere can be created during the day, while a softer and more relaxing light can be achieved in the evening. This can help reduce stress levels and create a more healing and comfortable atmosphere for everyone involved.
By implementing circadian lighting as an integrated part of the care and rehabilitation environment, hospitals can create optimal conditions for patients' healing process and contribute to their overall well-being.
Staff
THE GOOD WORK ENVIRONMENT
More refreshed and energized
Less fatigue
Improved sleep
Quality work light without disturbing patients at night
Patient
Treatment & Rehabilitation
Improved healing and recovery
Faster discharge
Enhanced tranquility and reduced stress
Better sleep quality
The staff
A HEALTHY WORK ENVIRONMENT
The impact of circadian lighting in hospitals extends beyond just the patients, it also greatly influences the staff. Hospitals are workplaces where staff often work in shifts and long hours, making it challenging to maintain a healthy sleep-wake cycle and high energy levels. This is where circadian rhythm lighting plays a crucial role in supporting the well-being and performance of the staff.
For healthcare professionals working in hospitals, it is important to be alert, attentive, and focused during their shifts. By implementing circadian lighting, the natural daylight can be simulated, helping the staff to be more alert and energetic during the daytime. Lighting with higher color temperature and increased intensity during the day can enhance the staff's wakefulness, responsiveness, and concentration, which is crucial for ensuring safe and effective patient care.
Similarly to patients, the staff can also benefit from softer and more calming lighting in the evening and at night. After a long and demanding shift, it can be difficult for the staff to relax and unwind. By creating an environment with dimmed and relaxing lighting in the evening, it can contribute to promoting relaxation and sleep for the staff, which is important for their own recovery and well-being.
Furthermore, circadian lighting can have a positive impact on the overall health and well-being of the staff. It can help regulate their own sleep-wake cycle and enhance the quality of their sleep. Stable and sufficient sleep is essential in combating fatigue, reducing the risk of errors, and improving overall health. By creating a work environment with circadian rhythm lighting, one can support the staff's health and contribute to reducing the risk of work-related stress and burnout.
Ultimately, circadian lighting in hospitals is not only important for the healing process of patients, but it also holds significant importance for the well-being, work performance, and health of the staff. By adapting the lighting environment to the natural rhythm of the day, optimal working conditions can be created for the staff, thereby fostering a more positive and productive workplace.
Contact us
WANT TO KNOW MORE ABOUT LIGHTING FOR HOSPITALS?
If you want to learn more about how Chroma Zenit Circadian Lighting can enhance the health and well-being of patients and staff at your hospital, reach out to our expert.
TOUCH
CLAUS PUGGAARD
Sales Director & Partner
CLAUS PUGGAARD
Sales Director & Partner
Chroma Zenit
CIRCADIAN LIGHTING FOR HOSPITALS
Chroma Zenit circadian lighting is a non-pharmacological treatment with proven effectiveness. This light is based on a clinically documented light protocol, tailored to diagnoses, behaviors, and the department's needs – developed in collaboration with sleep experts, physicians, and researchers.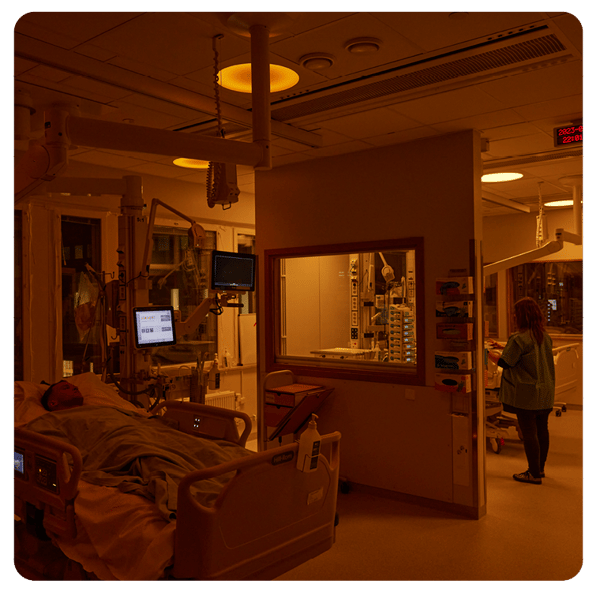 Reasearch & Science
WE BUILD OUR SOLUTIONS ON RESEARCH
Our lighting solutions have been extensively documented in numerous research projects. Additionally, we systematically collaborate with user surveys and practical evidence from over 130 hospitals, psychiatric departments, and nursing homes.