PSYCHIATRY
HEALTH, WELL-BEING, AND CALM AT THE PSYCHIATRIC DEPARTMENT
Support the treatment of patients with evidence-based lighting, and optimize the use of each space with the appropriate illumination.
Chroma Zenit
CIRCADIAN LIGHTING CONTRIBUTES TO TREATMENT
Chroma Zenit, the circadian lighting, are used with great effectiveness in psychiatry. The light is tailored to individual needs, stimulating patients and contributing to their treatment. At the same time, the gentle and seamless transitions in the light throughout the day create a relaxing and pleasant atmosphere.
This lighting supports the body's natural rhythm, positively impacting the health and well-being of both patients and staff. Patients experience reduced night-time activity, leading to improved sleep. They feel more calm and relaxed overall. The staff, working shifts throughout the day, experience increased energy levels during the day, fall asleep better in the evening when they return home, and enjoy physical well-being and a greater sense of tranquility in their daily lives.
BLUE-FREE NIGHT LIGHT
The subdued night light contains all colors except for blue, which primarily affects the body's wakefulness at night. This means that the staff enjoys excellent visual conditions without impacting the patients' circadian rhythm and sleep quality. The light utilizes the latest LED technologies and provides an energy-efficient solution.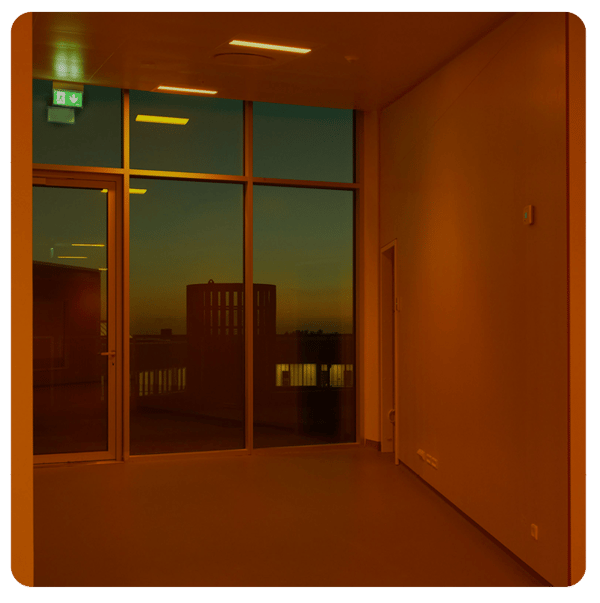 SAFETY & USER-FRIENDLY
At a psychiatric hospital, there are several specific safety and operational considerations that the installation must adhere to. It is crucial that the installations cannot be smashed and used as weapons or to harm oneself.
To ensure optimal usage, user-friendliness is the primary focus. The lighting control consists of both central touchscreens in the staff room and push panels in the rooms. The staff has an overview of all the rooms and the ability to adjust the lighting according to the desired treatment, mood, or activity they wish to support.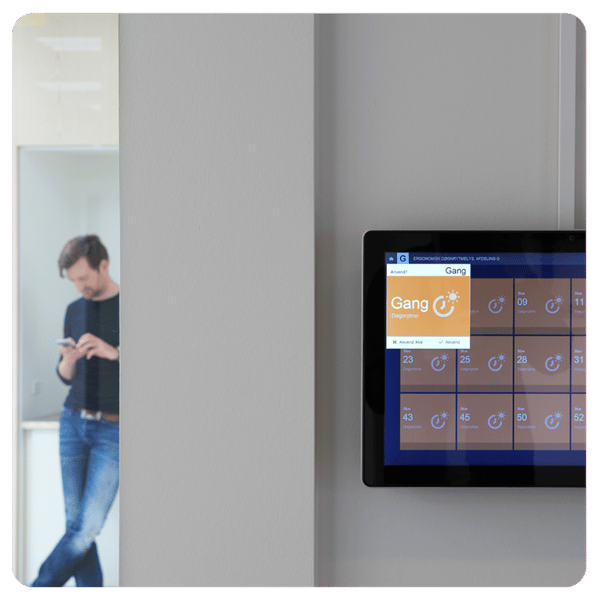 Chroma Zenit
A TESTED AND DOCUMENTED LIGHTING SOLUTION
Chroma Zenit is built upon a unique foundation of expertise and knowledge within the field of psychiatry.
Aabenraa Psychiatry
Denmark's first and largest 24-hour circadian rhythm hospital. Operating flawlessly on 10,000 square meters since 2015, creating significant value.
Room-light
Clinical, randomized study of over 150 patients at the Psychiatric Center Copenhagen (2017-2020). Provides evidence of the impact of Chroma Zenit on individuals suffering from depression.
Bispebjerg Hospital
Patient Room of the Future (2018). Experience the development of a one-of-a-kind lighting design featuring the latest generation of circadian lighting.
"The circadian lighting is beneficial during my night shifts as it facilitates a smoother transition from day to night. I can feel that I have gained more energy overall – probably because I find it easier to fall asleep when I come home after a night shift."
"Many of our patients who struggle with settling down in the evenings have found great relief in using circadian lighting. The gentle, subdued light helps them feel more relaxed compared to regular lighting, resulting in a better and more peaceful sleep experience."
"The lighting fixture must be vandal-proof, ensuring that it cannot be smashed, used as a weapon, or pose any harm to oneself. Chromaviso has found an excellent solution at a reasonable cost. With their professional approach, they immediately tackle challenges and effectively resolve them."
Contact us
WANT TO KNOW MORE ABOUT CHROMA ZENIT FOR PSYCHIATRY?
If you want to learn more about how Chroma Zenit Circadian Lighting can enhance the health and well-being of residents and staff in your psychiatric department, reach out to our expert.
TOUCH
CLAUS PUGGAARD
Sales Director & Partner
CLAUS PUGGAARD
Sales Director & Partner