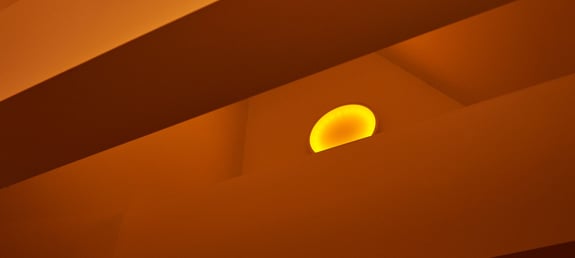 CIRCADIAN LIGHTING
Balance between light and dark
WHY IS LIGHT IMPORTANT?
The human system is designed to derive energy from a balance between light and darkness, with daylight playing a pivotal role. Any disruption in this balance can have a negative impact on our well-being. A prime example is the discomfort many experience when dealing with jet lag. Concentration wanes, focus is lost, and one feels disoriented and fatigued, unable to sleep. This is a result of our body's natural rhythm being thrown off, leading to decreased efficiency and lack of alertness. The same holds true for individuals subjected to night shifts or those who work in darkness throughout the entire workday.
Humans thrive best with a stable circadian rhythm, with daylight during the day and darkness at night. This is crucial in order to ensure the undisturbed functioning of the vital hormone melatonin. Melatonin, an antioxidant, is promoted in darkness and inhibited by daylight.
Today, we spend approximately 90% of our time indoors, which means that the built environment plays a crucial role in the light we are exposed to. However, we rarely consider the impact that light has on our sleep, circadian rhythm, and overall health. For vulnerable patients, maintaining a normal circadian rhythm is particularly important to ensure the best treatment and care outcomes. At the same time, night shift workers are affected by a disrupted circadian rhythm.
Definition
WHAT IS CIRCADIAN LIGHTING?
Circadian lighting replicates the beneficial effects of natural light. It automatically adjusts throughout the day, providing a gentle sunrise and strong daylight to establish a healthy circadian rhythm, boost energy, and improve sleep.

The good circadian rhythm
WHAT ARE THE ADVANTAGES?
Maintaining a healthy circadian rhythm is crucial for our bodies to thrive and stay well. By ensuring that we receive the right light at the right time, we contribute to fostering both health and well-being. But what are the actual psychological and physical effects that light provides?
BETTER SLEEP
Soft lighting in the evening and darkness at night create optimal conditions for a restful night's sleep.
ANTI-DEPRESSION
A proper balance between light and darkness promotes a stable circadian rhythm and reduces depression.
MORE ENERGY
Intense daylight fuels the body and mind with energy throughout the waking hours of the day.
INCREASE HEALTH
Properly utilized light preserves the body's natural processes and enhances well-being.
Evidence-based circadian lighting
CHROMA ZENIT
Chroma Zenit circadian rhythm light is a non-pharmacological treatment with proven effectiveness. The light is based on a clinically documented light protocol tailored to diagnoses, behavior, and departmental needs - developed in collaboration with sleep experts, doctors, and researchers.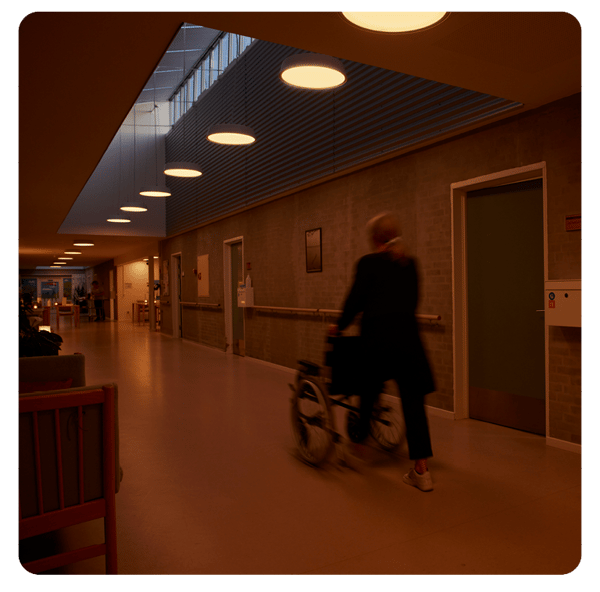 Target audience
WHO BENEFITS FROM CIRCADIAN LIGHTING?
Everyone needs a good and stable circadian rhythm to thrive and support their health. Circadian lighting are beneficial for anyone who spends the majority of their day indoors, especially those who experience imbalances in their sleep-wake cycle or need to regulate their circadian rhythm. The healthcare sector has a particular need for these lights. Here are some of the groups who will particularly benefit from circadian lighting:
TOUCH
Staff
Health and Care
Multiple studies have demonstrated that circadian lighting enhances well-being and health among healthcare professionals, and can reduce sick leave.
TOUCH
Psychiatric patients
Inpatients in psychiatry
Circadian lighting is effectively used in the treatment of psychiatric patients who struggle with settling down in the evening and achieving a restful and steady sleep. Additionally, the light can be tailored to meet individual patient's needs for stimulation as part of their treatment.
Psychiatric patients
Inpatients in psychiatry
TOUCH
Somatic patients
Intensive Care & Rehabilitation
Patients receiving somatic treatment in intensive care or rehabilitation often spend their entire time indoors, making it difficult for them to maintain a stable circadian rhythm. We know that this rhythm plays a crucial role in the effectiveness of treatment and the duration of the illness.
Somatic patients
Intensive Care & Rehabilitation
TOUCH
Senior citizens
Nursing home residents
Elderly citizens, especially those with conditions like dementia, spend over 90% of their time indoors. Consequently, they lack exposure to natural sunlight, which affects their circadian rhythm. Additionally, lighting that mimics the natural day-night cycle helps promote relaxation and a restful night's sleep.
Senior citizens
Nursing home residents
TOUCH
Vulnerable citizens
Treatment & Care
Vulnerable individuals require stability in their daily lives, and the circadian rhythm plays a crucial role in creating a good day and night for them. With circadian lighting, they can gain the necessary energy during the day and unwind and relax towards the evening. Vulnerable individuals need lighting that caters to their specific needs, ensuring a stable circadian rhythm for them.
Vulnerable citizens
Treatment & Care
- Unlike conventional lighting, circadian lighting supports the body's natural rhythm, promoting health and well-being while providing visually pleasing light for all types of tasks.
Are you considering installing circadian lighting for your nursing home or hospital?
5 PIECES OF ADVICE TO GET STARTED
1
Documentation for effect
To ensure that you achieve the value you invest in, it is crucial for you to thoroughly examine the supplier's documentation on effectiveness.
2
Customized adaptation
Choose a system that is tailored to each department and patient group. There is no "one size fits all" lighting solution.
3
Implementation
Consider implementation from the beginning and choose a supplier who includes implementation as an integral part of the solution.
4
Technical Requirements
The technical specifications, such as night lights and control systems, play a crucial role in promoting a healthy and pleasant environment.
5
Measure according to M-EDI
Utilize Melanopic EDI to measure the biological impact of light. M-EDI is defined by the International Standardization Organization CIE.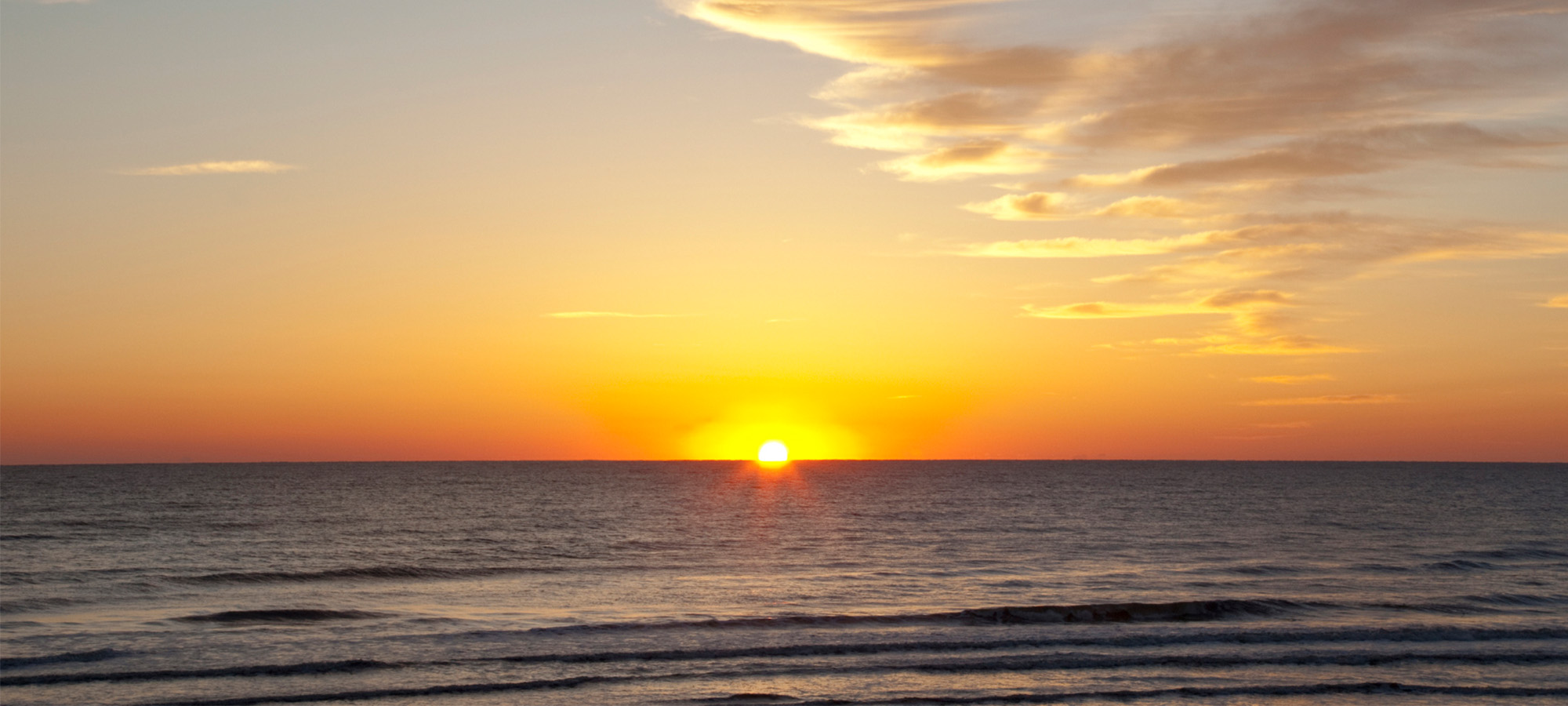 WANT TO LEARN MORE ABOUT CIRCADIAN LIGHTING?