Ryttershov, the new nursing home in Ulricehamn Municipality, is set to become Sweden's first nursing home with evidence-based circadian lighting – and the largest circadian lighting system in all of Scandinavia. The lighting in the new building aims to reflect the municipality's high-quality standards and create the best conditions for residents and staff.
The project is well underway, and in 2024, the first part of the nursing home will be ready for occupancy, while the entire facility will be ready in 2026. The circadian lighting from Chromaviso will be installed in all apartments, common areas, and offices, creating a cohesive and health-promoting solution.
— We are not just building a house, but an interconnected environment. We are building it from the inside out, with knowledge of colour composition and based on the way we work, user context, and the unique environment, says Anna-Karin Asp, operations manager for the municipality's nursing homes.
High hopes at Ryttershov
At Ryttershov, the expectations for circadian lighting are high. The residents are expected to experience improved quality of life, better sleep, reduced restlessness, increased well-being, and most importantly, the scientific and clinical results that research has shown. But circadian lighting is also an investment in the staff, who are the healthcare system's greatest resource, explains Anna-Karin Asp.
— Just like the elderly residents, the staff should have the best conditions, and more people should feel motivated to work at Ryttershov. They should feel good, sleep well, and experience less fatigue after working at night. For us, circadian lighting is an investment in the staff, she says.
The municipality's expectations are based on research studies that have documented the effects of circadian lighting on residents with dementia, hospitalized patients, and staff. Additionally, the solution has been implemented with great positive effects in several hospitals throughout Sweden and is widely adopted in nursing homes in Denmark.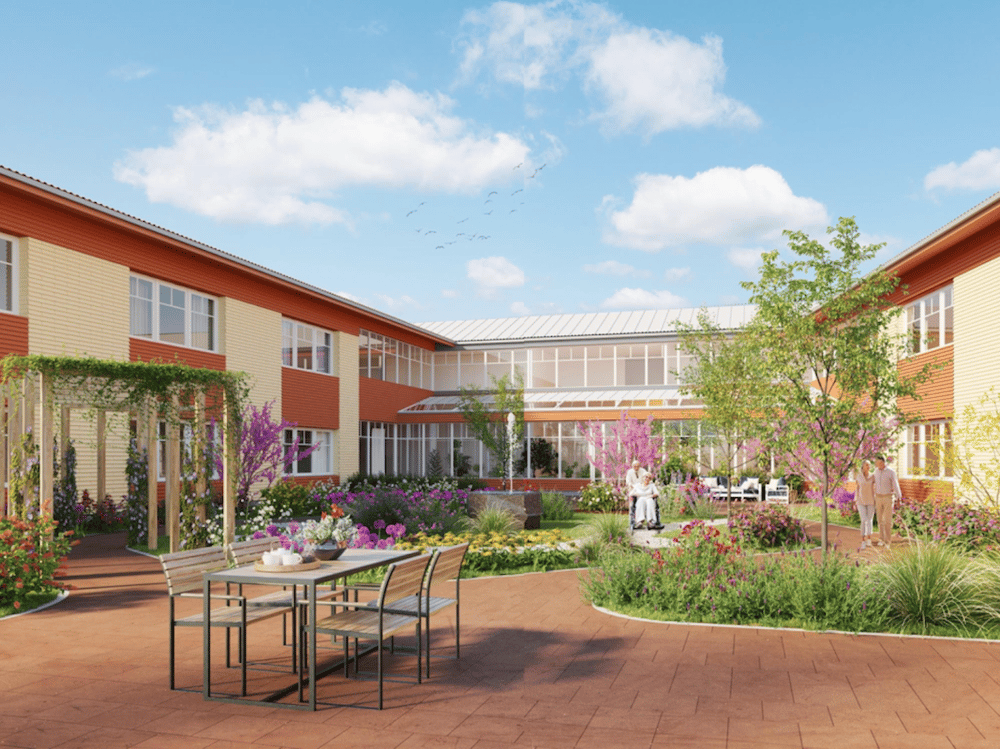 A comprehensive and user-friendly solution
Ryttershov is an innovative and detail-oriented nursing home that aims to create optimal conditions for its residents. The facility also serves as a knowledge and dementia centre for individuals with cognitive impairments.
Promoting circadian lighting is just as important to the user-oriented concept at Ryttershov as functional spaces and accommodations.
— The entire Ryttershov environment, including living rooms, common areas, gardens, and courtyards, will be tailored to the needs of individuals with dementia, explains Anna-Karin Asp. She further discusses the decision to select Chromaviso as the supplier of circadian lighting for Ryttershov:
— We have carefully studied circadian lighting and considered solutions from various suppliers. We ultimately chose Chromaviso's solution because it is comprehensive and user-friendly. It was also crucial for us that the solution is based on scientific and clinical evidence – both research and Chromaviso's numerous reference projects demonstrate significant positive effects. The collaboration started very well, and Chromaviso has been attentive to understanding our needs at Ryttershov.
More nursing homes are on the horizon
Ryttershov is one of the five nursing homes in the municipality that will be developed in the coming years, with plans to implement Chromaviso's circadian lighting. The next project will be a residence in Gällstad.
The scientific basis for the biological impact of light on health has made circadian lighting a standard for the municipality's new buildings.
Anna-Karin Asp has had extensive discussions with politicians and the municipality's administrative leadership to emphasize the value of tailored lighting, and the response has been very positive.
— Politicians have been very curious about circadian lighting and have decided that it should be part of the future quality standard throughout the municipality, she concludes.
Facts about the project
Anna-Karin Asp's five criteria for selecting circadian lighting.
Several companies were involved in the selection process, but Chromaviso stood out based on the following criteria:
Technology: Chromaviso offers the latest technology in an open and accessible system.
User-friendliness: Chromaviso provides simple and user-developed control solutions.
Kelvin degrees: No other company matches Chromaviso in terms of Kelvin degrees (1800).
Management: Chromaviso offers a complete integrated solution.
Reference projects: Chromaviso has a wide range of reference projects based on scientific and clinical evidence.
The new construction covers an area of 10,000 square meters:
1500 fixtures, 6 Tiles21 touch screens, and 450 control panels.
Sweden's first nursing home with evidence-based circadian lighting.
The largest circadian lighting system in Scandinavia.