A groundbreaking lighting concept has been developed through a three-year project supported by the Market Development Fund. This innovative concept, created in close collaboration between Chromaviso, nurses, doctors, and researchers, aims to support the body's circadian rhythm, sleep, energy, and well-being – benefiting both patients and staff.
Maintaining a natural circadian rhythm is crucial for the health, sleep, immune system, well-being, and energy levels of individuals. However, for those who are ill in hospitals or working night shifts, establishing a natural and strong circadian rhythm can be a significant challenge.
Light plays a central role in influencing the circadian rhythm and serves as a timekeeper for the body. Recognizing this, Chromaviso, a company specializing in health-promoting lighting solutions for the healthcare sector, teamed up with Aarhus University Hospital (Neurosurgical Department) and Rigshospitalet Glostrup (Apoplexy Unit, Neurological Clinic) in 2013 to develop a research-based and cost-effective circadian rhythm light. This project, with a budget of 9.6 million DKK and support from the Market Maturation Fund, has now been completed, resulting in a combination of user-driven innovation, product development, and scientific research and documentation.
Clinically validated light protocol
Circadian lighting is an automatically controlled light that changes in a smooth transition throughout the day, just like the natural light outside.

The rhythm of light is crucial, which is why the first step in the project was to design a clinically validated light protocol for the two departments in collaboration with sleep researchers and doctors. This light protocol determines how the light evolves throughout the day, including the precise interaction between light intensity and spectrum during the day and the design of a blue-free light at night that does not disrupt the body's circadian rhythm but allows the staff to read, write, and attend to the patient.
— In collaboration with Chromaviso, we have developed a light protocol tailored to our patients. The light protocol is the foundation of circadian lighting and essential in achieving the desired physiological effects, which likely include improved awakening, alertness, daytime energy, and quality sleep, explains Anders West, PhD student and physician.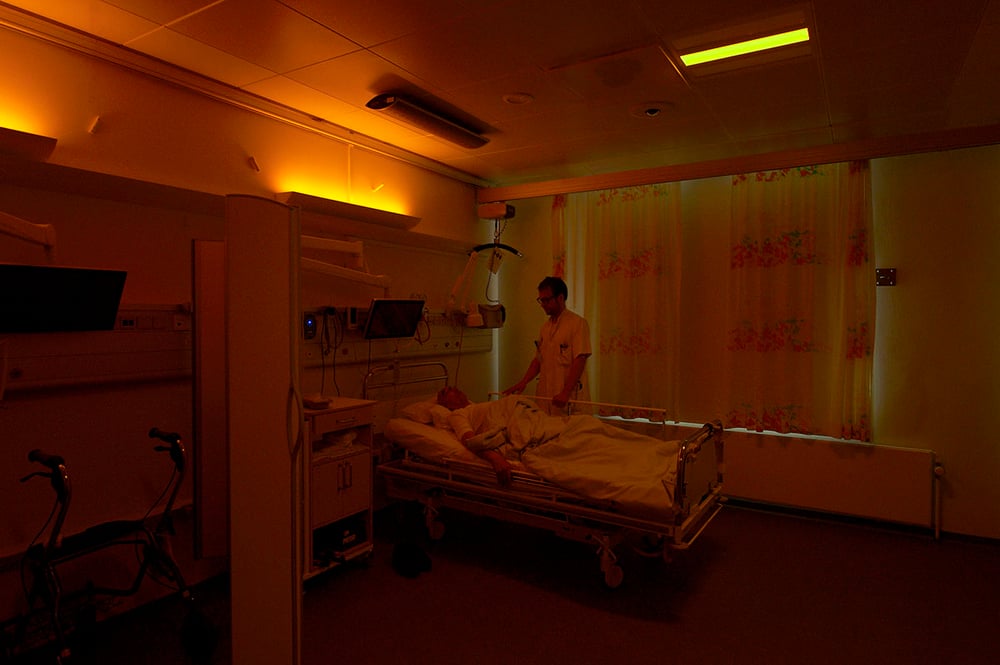 User-oriented operation

For situations where natural circadian lighting is not ideal, Chromaviso has collaborated with the staff to develop a range of activity-based lighting settings. These include emergency lighting, lighting for patient care, and lighting for therapeutic and sensory-stimulating purposes or other activities that require specific lighting. The lighting is controlled through a new user-friendly interface consisting of touch screens and buttons with recognizable icons and colours.
— The control of the lighting is crucial for how and how often the lighting is used in reality, and whether it achieves the desired effect, whether it's a physiological effect, a behaviour change, or good task lighting. By working closely with the users, we have been able to create a user-centred and intuitive control system, which has resulted in the users embracing the lighting concept, explains Anders Kryger, CEO of Chromaviso. The lighting can be controlled both centrally and decentrally, depending on the desired proximity and patient empowerment.
Research on the impact
The potential of the lighting concept has generated significant scientific interest from the two hospitals involved in studying the effects of circadian lighting on patients and staff.
At the Neurology Clinic's Stroke Unit, 73 patients are participating in the study, which examines the effects of circadian lighting on various aspects such as sleep habits, sleep quality, anxiety, depression, cognitive deficits, memory, and fatigue. This study is a PhD project conducted by physician Anders West, in close collaboration with an expert group consisting of Dr. Helle K. Iversen (Neurology Clinic), Dr. Poul Jennum (Neurophysiology Clinic), Dr. Birgit Sanders (Ophthalmology Clinic), Dr. Henriette Sennels (Clinical Chemical Department), architect Maj Seligmann, and Morten Christiansson, the director of the Service Center at Rigshospitalet.
This project is the largest of its kind and has garnered international attention, resulting in interest from Harvard University and subsequent collaboration with the American institution. The findings will be published in scientific journals throughout 2016.
At Aarhus University Hospital, a stimulus concept consisting of sound, light, and images has been implemented in the intensive care of patients with acute brain injuries. The results of this study are expected to be published in 2017.
— The initial observations regarding the effects of Chromaviso's circadian lighting are that patients are calmer at night, and less agitated, and the different light settings, which do not include white light, mean that patients are minimally disturbed and not awakened while allowing the staff to carry out their caregiving tasks around the clock, explains Leanne Langhorn, clinical nurse specialist and Ph.D.
The staff benefits from circadian lighting
In addition to measuring the impact of circadian lighting on patients, the staff in both departments have also kept journals, filled out questionnaires, and worn Actiwatches to examine the effects of the lighting on themselves.
— Staff members who have been exposed to Chromaviso's circadian lighting sleep better and feel more rested. Furthermore, feedback from the staff suggests that they experience improved well-being and feel that they now have the right lighting for their tasks, explains Leanne Langhorn.
A Growing Market
The knowledge and results accumulated in the project, including the development of a health-promoting lighting design, have led to several other hospitals in Scandinavia choosing to install circadian lighting. For example, the new Aabenraa Psychiatry has opted for Chromaviso's lighting solution covering 10,000 sqm. The intensive care units at Rigshospitalet and Holbæk Sygehus also have the lighting solution, as do several Swedish hospitals, including the brand new Centralsjukhuset in Karlstad.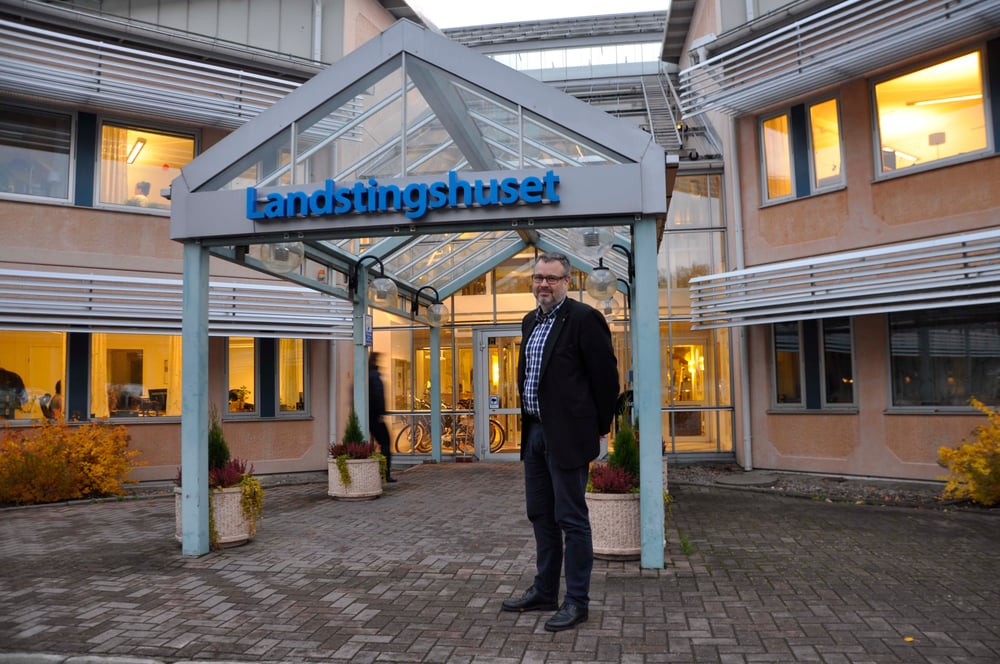 — It is essential to create a future-oriented operating facility that puts the patient at the centre. At the same time, we prioritize a good working environment and flexibility. Lighting plays a crucial role in achieving these goals. Chromaviso provides highly competent guidance and has proven to follow through with user implementation, explains Tobias Kjellberg, Health and Healthcare Manager responsible for hospitals in the Swedish region of Värmland.
Chromaviso emphasizes that guidance and implementation are key to a successful circadian rhythm solution:
— We follow our projects from initial guidance to the client on the best lighting design solution to precise project implementation. Once the lighting is installed, we focus on integration, including customization and education in close collaboration with users and technical personnel. Our active involvement in this entire process ensures high user satisfaction, explains Anders Kryger.
The high demand and numerous installations have led to the expansion of the lighting concept from individual rooms and departments to entire hospitals. This shift has prompted Chromaviso to focus on technology development, including a transition from fluorescent tubes to LED lighting, as well as ensuring reliable control and integration with building automation systems.
Public-private collaboration
The public-private collaboration between the two hospitals and Chromaviso has paved the way for future projects.
— We have become acutely aware of the importance of light. We have gained substantial knowledge about the impact of light on patients and their circadian rhythm and sleep. This research project is the first of its kind to focus on lighting for critically ill patients, and it has been a highly interdisciplinary endeavour. The collaboration across different fields creates a wealth of expertise that benefits both patients and staff, explains Leanne Langhorn.
For Chromaviso, the close proximity to clinical staff, patients, and researchers has been a catalyst for increased focus on skills and knowledge.
— Over the past 10 years, we have specialized in the healthcare sector. This has provided us with a deep understanding of everyday life in the clinical world and given us knowledge about the impact of light on people. Combined with the latest technologies and a focus on high reliability, it means that today we offer a concept that is tailored to each department, is effective, and makes a difference every day, explains Anders Kryger.
About the project
Objective
To develop research-based and cost-effective circadian lighting. The project was completed in 2016 and the outcome encompasses user-driven innovation, product development, as well as scientific research and documentation.
Interdisciplinary public-private collaboration
Rigshospitalet Glostrup, Stroke Unit, Neurology Clinic. Physician, Anders West.
The expert group involved in the project consists of medical professionals and researchers from Rigshospitalet Glostrup, including Dr. Helle K. Iversen, Dr. Poul Jennum, Dr. Birgit Sanders, and Dr. Henriette Sennels. They are joined by architect Maj Seligmann and Morten Christiansson, the director of the Service Center at Rigshospitalet.
Aarhus University Hospital's Neurosurgical Department also contributes to the project with a team led by clinical nurse specialist Dr. Leanne Langhorn, along with coordinators Lone Moeslund and Helene Bugge, nurse Jane Johnsen, and development and implementation nurse Ann-Sophi Jappe.
The collaboration extends to include research nurse Dr. Lena Aadal from Regionshospitalet Hammel Neurocenter, clinical professor Ingrid Egerod, and research leader Dr. Ingrid Poulsen from Rigshospitalet.
Chromaviso, a specialist in health-promoting lighting for the healthcare sector, is also a key participant in the project.
With a budget of 9.6 million DKK and support from the Market Development Fund, this interdisciplinary collaboration aims to develop research-based and cost-effective circadian lighting solutions.