Cardiological Intensive Care Unit 2143 is dedicated to implementing new technological advancements that support and optimize treatment. One such innovation is the Ergonomic Circadian Lighting, which enhances conditions for both patients and staff.
The driving force behind the new lighting in the Cardiological Intensive Care Unit is department nurse Charlotte Illum. She is always eager to embrace new technology if it contributes to improving patient care.
— I saw the Ergonomic Circadian Lighting in use at NIA Aarhus University Hospital a couple of years ago. Since then, I attended an innovation seminar where we were introduced to the comprehensive sensory stimulating concept CURAVIVO, which includes the Ergonomic Circadian Lighting, noise reduction/music intervention, visual observation, and info-screens. We were then given the opportunity to install the Ergonomic Circadian Lighting in nine beds and in the nurses' office. It has now been a year since we implemented the lighting. It is tailored to the patients' circadian rhythm and the department's work routines and schedules - and it makes a huge difference in our daily lives, she explains.
Maintaining a stable circadian rhythm for vulnerable patients
— As a Cardiological Intensive Care Unit, we receive critically ill patients in need of highly specialized care and treatment, explains Charlotte Illum. She continues, Our patients are vulnerable, and many of them suffer from intensive delirium, characterized by confusion, disorientation, impaired short-term memory, and disrupted sleep patterns. For these patients, maintaining a stable circadian rhythm is crucial, as even a one-hour shift can significantly impact their overall well-being. That's why we place great emphasis on avoiding disturbances for sleeping patients at night. The Ergonomic Circadian Lighting is pre-programmed to mimic the natural rhythm of the sun throughout the day, providing a protective night-light. The light gradually starts in the morning, simulating a gentle sunrise to awaken the patients naturally. We have implemented the Ergonomic Circadian Lighting in three two-bed rooms and one three-bed room, with individual installations above each bed. With the zone-divided lighting, we can keep the room dark at night and only turn on the lights around a single bed in case of an emergency situation.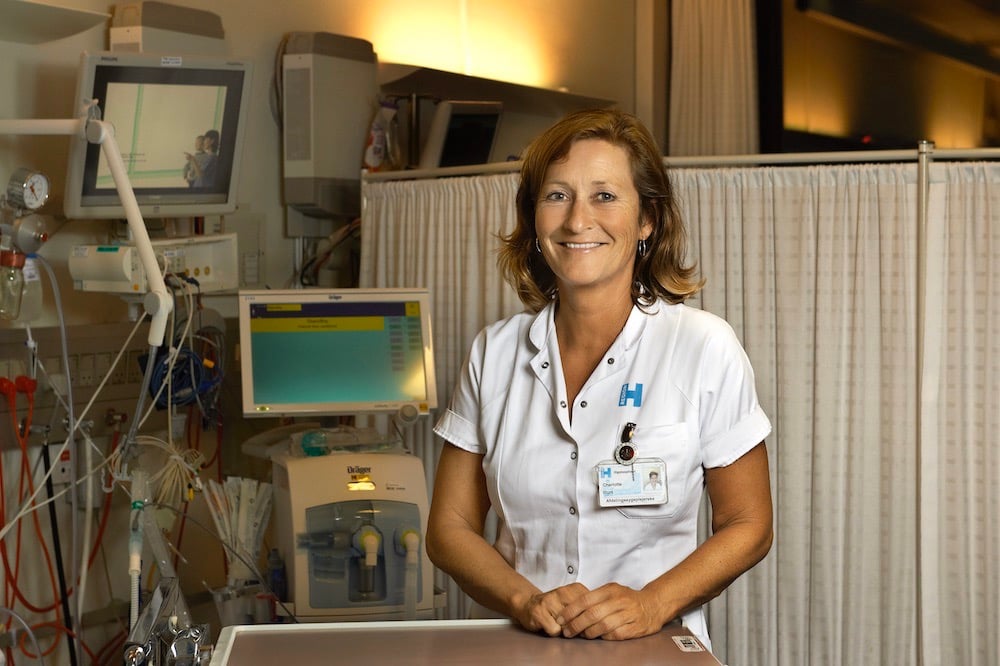 Pre-programmed light control
The staff has embraced the Ergonomic Circadian Lighting, despite some initial skepticism, as it requires a completely new way of using light. As Charlotte Illum explains, "The Ergonomic Circadian Lighting is pre-programmed and automatically changes throughout the day. It's a challenge to get the staff to not adjust the lighting, as they are used to controlling it based on their needs."
In the evaluation survey conducted on the use of Ergonomic Circadian Lighting in the department, 38 out of approximately 50 employees participated. Of those, 22 reported improved lighting conditions for both patient rooms and staff, with the light ensuring a better night's sleep for patients. Fourteen partially supported these positive statements but had individual perceptions of whether the sunrise/sunset occurred too early or too late, and whether the light was too bright or too dim.
One step forward - and hopefully many more to come
It is a fact that people perceive light differently. Some appreciate extra strong light while others are more light-sensitive - this applies to both patients and staff. The Ergonomic Circadian Lighting is programmed to provide optimal light exposure around the clock for as many people as possible. In conclusion, Charlotte Illum states:
"Regardless, the Ergonomic Circadian Lighting is an initiative that improves conditions for our patients - and it is a step forward. The entire CURAVIVO concept, including noise reduction and music intervention, remains a desire. In that regard, I have initiated a mini innovation project on noise, where I have had a noise meter installed on a bed for 14 days - and interviewed patients and their families about their perception of the noise level in the department. If noise is a disadvantage for the patients and their families, we must do something about it. All new technological initiatives that can support and optimize treatment and care in the department are inherently interesting. Ergonomic Circadian Lighting is an example of a technology that can help patients. We usually say that the difference is felt as if we have gotten skylights or moved to the top floor - thanks to the circadian lighting."