Ergonomic lighting reduces fatigue and provides better working conditions, according to the staff at Nordland Hospital in Norway after six months of using ergonomic lighting.
In December 2014, five operating rooms and three day surgery rooms at Nordland Hospital in Bodø, Norway, were installed with Ergonomic Lighting from Chromaviso as part of an extension to the existing hospital.
Ergonomic Lighting is particularly suitable for operating rooms where screen work is an important part of the procedure. The eight rooms at Nordland Hospital perform a range of different procedures, from gynecology, gastro, endoscopy, urology, gastric bypass, laparoscopy, arthroscopy to open surgery.
During an operation, the room is divided into colored light zones, tailored to the work being performed. This ensures that each function receives the appropriate lighting. Green light is used in the zone above the screens to optimize visual contact (contrasts, contours) with the screens, white light is used for anesthesia to monitor the patient, and red light is used in the rest of the room to minimize screen reflections and create balance.
— Before we had Ergonomic Lighting, I used to turn off the lights in the room. Now we use the new lighting, and I am very satisfied with it. It is a pleasant light that makes me less tired during an endoscopic treatment. Today, we have both light and good image quality on the screen. We can adjust the light ourselves from a touch screen, which works very well, says Kåre Nordland, a gastro surgeon at the hospital.
Calms the patient and alleviates fatigue
During surgery, nurses work in a red zone surrounding the patient.
— Nowadays, we no longer need to dim the lights in the entire room to avoid screen reflections. The red and green lights work really well in my work. I feel less tired, and it is comfortable for my eyes to work in. It gives me more light, which is especially nice during the winter when we only have a few hours of natural light in Bodø, explained Anita Jensen, a surgical nurse.
Ergonomic Lighting is flexible and can be adjusted to different needs before, during, and after surgery. Cleaning and preparation often require a strong light that simulates natural daylight, while patients can benefit from a warmer light.
— Our patient lights are very effective. Previously, patients entered a room with harsh lighting, but now we can create a more pleasant atmosphere. It calms our patients, who are often stressed about undergoing surgery, said Anita Jensen.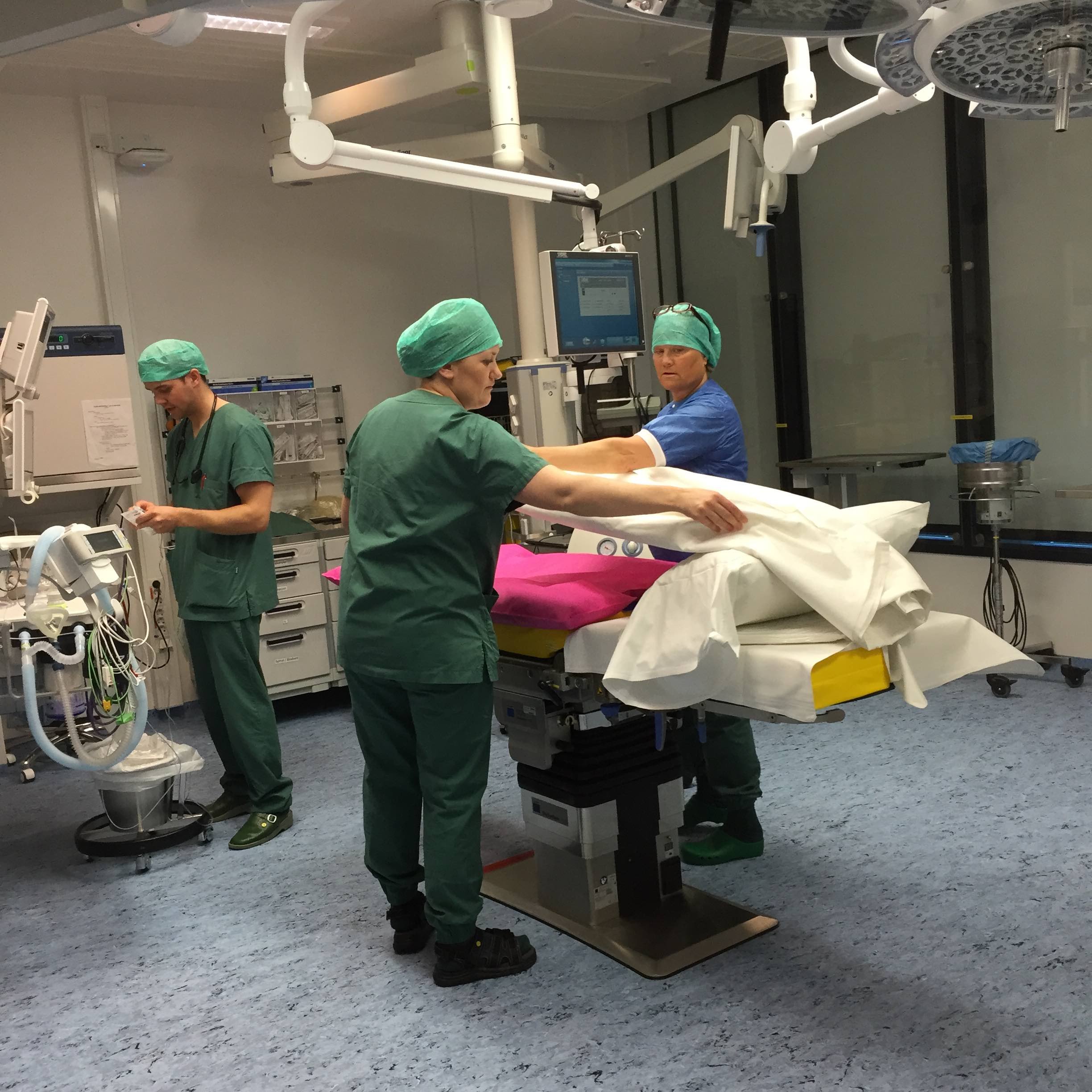 Reliable solution seamlessly integrated
Nordland Hospital has seamlessly integrated Ergonomic Lighting with the rest of the equipment in their operating rooms. Malvin Gismervik, an engineer in the medical technology department, was part of the team that selected Chromaviso's Ergonomic Lighting based on recommendations from advisors who had seen it in action at a hospital in Køge.
— We chose this lighting because it is of high quality and because it can be integrated into our rooms with fixed ceilings and central control. It is an advanced lighting system, and it works perfectly. We have had no issues with the lighting, and in my opinion, no news is good news. Reliability is important, explained Malvin Gismervik.
Continuous communication with users
During the initial stages, Chromaviso engaged in a dialogue with the staff in the rooms to customize the lighting for the different operating rooms.
— The system is flexible, and we have the ability to have the light that suits the specific situation. It is easy to use and switch between settings, and it is comfortable to work in. And when our needs change, we can adjust the lighting. For example, we have just changed some zones and increased the intensity, explained Mathias Solhaug, an operating room nurse.
User dialogue and knowledge about lighting are crucial elements in Chromaviso's solution.
— In Bodø, we have been in dialogue with the users several times, and that's how we always work. We map out the workflow in each room and then program the lighting to provide optimal working conditions, explained Anne Gitte Rugaard from Chromaviso.
She also points out that the recipe for the perfect lighting should also be found in the habits of the staff.
— The flexible settings in the lighting allow the staff to have a strong burst of light between surgeries, when they clean or prepare. It is important for ergonomics and energy, and it is clearly evident here in Northern Norway.
FACTS

About the installations at Nordland Hospital in Bodø, Norway
Eight rooms have been equipped with Ergonomic Lighting: five operating rooms and three day surgery rooms.
The staff highlights the benefits of the lighting:
Reduced fatigue and improved concentration
Pleasant work lighting, easy on the eyes
Reliable performance and seamless integration
Nordland Hospital is the second largest healthcare facility in Norway, serving over 136,000 residents. With local hospital functions for Salten (Bodø), Lofoten, and Vesterålen, the hospital covers various subspecialties in medicine, surgery, and psychiatry, as well as other clinical disciplines and laboratory specialties.
Chromaviso has installed over 700 Ergonomic Lighting systems in Scandinavia, including hospitals in Trondheim, Bodø, and Stokmarknes in Norway.
About Ergonomic Lighting
Ergonomic Lighting is a zone-divided colored light system that eliminates screen reflections and optimizes image quality. It is used in operating rooms, endoscopy rooms, imaging diagnostics, scanning rooms, and other areas where screen work is essential for staff.
Ergonomic Lighting has been installed in over 700 locations in Northern Europe and is recommended by doctors, nurses, and technicians. It was developed through close collaboration with users and extensive knowledge of lighting and control. Today, Ergonomic Lighting is utilized in the majority of new construction projects.
The lighting system creates optimal lighting conditions for both staff and patients. Prior to surgery, a pleasant and warm light illuminates the patient. During surgery, the room is divided into colored light zones to ensure each function receives the appropriate lighting. Green light is used above screens to minimize reflection, white light is used for anesthesia monitoring, and red light is used in the rest of the room to achieve balance. After surgery, staff can adjust the lighting to simulate daylight.
The benefits of Ergonomic Lighting extend to both patients and staff:
The warm reception light calms the patient
Reduces fatigue and improves concentration
Provides good lighting conditions throughout the day
A reliable and energy-efficient product
Flexible settings tailored to specific needs and work functions
User-friendly operation and control